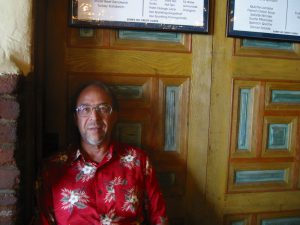 A native New Mexican, Rudy J. Miera was born in Albuquerque, grew up in the North Valley.
Rudy's screenplays have placed in competitions (the Lone Star Competition, Cyclone Productions, etc.), and his poetry has been published in: "Chiricú," "New Kauri," "Very Large Array," "Voices From the Outside," "The Albuquerque Tribune," etc.
His essays have appeared in "The Voice" (National Writing Project), "English Journal," "Narratives," "The Corrales Comment," "La Herencia," etc.
Other dramatic works that Rudy has written and had produced include: "Día de Los Muertos" (KiMo Theater), "Valz Con La Muerte" (touring show), and he has been the musical director for several plays at the National Hispanic Cultural Center, including Bless Me, Última and The Farolitos of Christmas" (both by Rudolfo Anaya).