One of My Lives and Loves: Music
View Rudy sitting in with the Rhinestones as they celebrate his brother Bill's Birthday at the Sandia Casino on June 3rd, 2017.
Rudy, on guitar and vocals, with the Vintage Grand Prix band at the 'Starry, Starry Night' benefit in Corrales, Summer, 2016.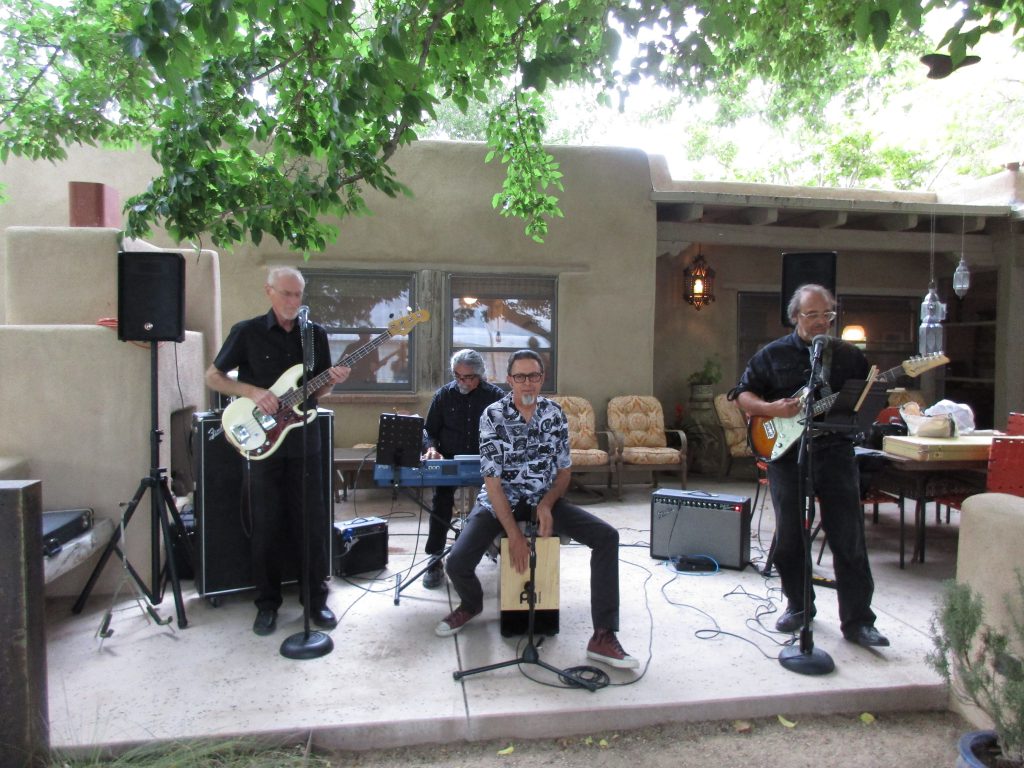 I sang and played guitar for the premiere production of "Última" at the old Vortex Theater and for the statewide touring productions in 2009 and 2010.
Collaborations on  live theatrical music included accompanying the staging of "The Farolitos of Christmas" performed in December 2012, also a joint collaboration between the Vortex and the NHCC.
In June and July 2014, I played the roles of Philostrate and Peas Blossom and performed live music for the staging of "A Midsummer Night's Dream," another collaboration between the Vortex Theater and the City of Albuquerque.
"Luz de Presente"is one of several original pieces of music that I composed for the April 2015 Vortex Theater production of "Bless Me, Última" at the National Hispanic Cultural Center.
In Summer 2015, I was the pre-show coordinator for the "Shakespeare on the Plaza" plays at Civic Plaza in Albuquerque, where the quartet in which I sang and played guitar, the West Ella Band (now called Vintage Grand Prix), opened several shows in the downtown, under-the-stars location.
Vintage Grand Prix can be heard playing soul, country, rock and folk music for diners at Las Ristras Restaurant on "Taco Tuesday" from time to time, appearing from 6 to 8:30 p.m. Las Ristras is located at 4940 Corrales Road, #400.
Listen to some samples from my archive:
Can't Be Undone (1:23)
Gonna Win
Luz de Presente
---
One of My Lives and Loves: Film
My films have been shown in film festivals from Los Angeles to Tupelo, Mississippi, from Santa Fe to Starkville, Mississippi. I have had two films that have won first place in the New Mexico Filmmaker's  Annual presentations.
Mikailwitl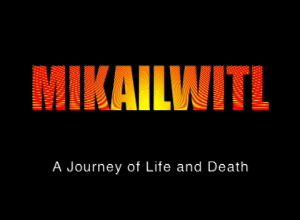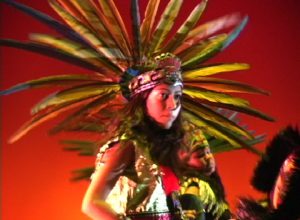 Mikailwitl began life as a series of moving background images for a live dance/theater presentation by the EHECATL Nahua (Aztec) dance group. Documentary footage was added to create a short Documentary film that has screened in numerous venues.
---
Curandera: Maclovia Zamora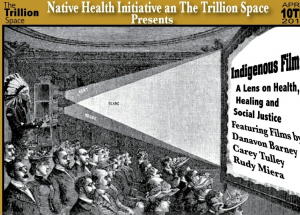 At the Jean Cocteau Theater in Santa Fe, New Mexico for a screening of "CURANDERA: Maclovia Zamora."
"Curandera: Maclovia" is one of a series of short documentary films on the various aspects and modalities of Native Folk Medicine as practiced in Mexico and the Southwest of the U.S. (Aztlán).
Some of the practices documented include: herbal cures, midwife practices, massage, spiritual counseling, prayer, etc.
The film was shown for the Native Health Initiative, at the Tortuga Gallery in Albuquerque, and then at the Santa Fe Film Festival, and for students of medicine in UCLA health programs.
---
Drive-By Shakespeare (Episode #4) : King Lear
Rudy with friends, Dr. Carol Clericuzio, Benny Lee Jaramillo and his wife at a screening at the New Mexico Filmmakers Showcase at the Guild Cinema, in Albuquerque, N.M.

"Shakespeare's Women", Episode #6 in the 'Drive-By Shakespeare' series was the Winner of the Best Film in the 'Wildcard' Category' for the New Mexico Filmmaker's Showcase in 2011. Along with the other winning films, "Shakespeare's Women" toured the state and was broadcast in a variety of cities.
Outstanding Actor, Director and Theater Instructor Paul Ford in a memorable performance as King Lear.
---
One of My Lives and Loves: Retablos
For more than 25 years, I have been creating retablos, hand-painted images of saints and angels.
Shortly after teaching myself the rudiments of reproducing iconic images on pieces of pinewood, I was fortunate to be able to apprentice with Master Santero Charlie Carrillo for a short time in Santa Fe.
Charlie and I went on a several expeditions to gather the natural materials from a variety of sites, including Abiquiu and Chama, New Mexico. My teacher and mentor taught me about the use of natural pigments for colors and how to create gesso from gypsum and rabbit-skin glue, tools I still use to this day.
The retablos are then sealed with homemade varnish from a mixture of trementina (pine sap) and grain alcohol.
The annual Corrales Harvest Festival (always in late September) is the main arts and crafts fair in which I participate, selling my santos in La Entrada Park next to the Corrales Library.
My retablos now hang on walls in homes from California to Boston, from Florida to Colorado, from Finland to Australia. Family members, friends and collectors like author Gary Soto and actor Edward James Olmos are among the proud owners of these pieces.
Retablos that I have recently painted can be purchased at Bookworks, 4022 Rio Grande Blvd. NW, Albuquerque, throughout the year.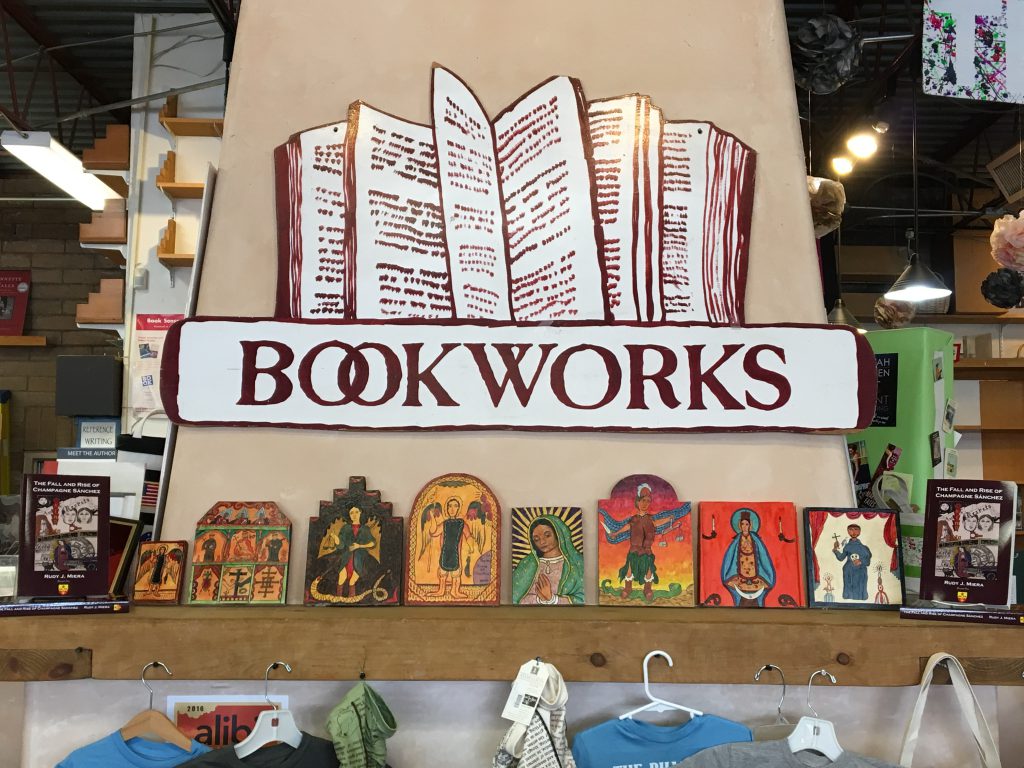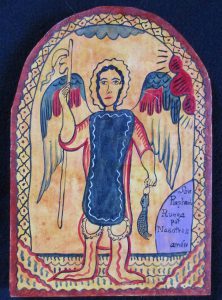 When I taught at School-on-Wheels in Albuquerque's South Valley, I was able to organize the creation of a Fresco Mural involved students of Bernadette Vigil, who apprenticed under an apprentice who learned directly from Mexican master fresco artist Diego Rivera.
The mural, on the front wall of the school, facing South, can still be seen at 120 Hartline Road SW, Albuquerque.