For more than 25 years, I have been creating retablos, hand-painted images of saints and angels.
Shortly after teaching myself the rudiments of reproducing iconic images on pieces of pinewood, I was fortunate to be able to apprentice with Master Santero Charlie Carrillo for a short time in Santa Fe.
Charlie and I went on a several expeditions to gather the natural materials from a variety of sites, including Abiquiu and Chama, New Mexico. My teacher and mentor taught me about the use of natural pigments for colors and how to create gesso from gypsum and rabbit-skin glue, tools I still use to this day.

The retablos are then sealed with homemade varnish from a mixture of trementina (pine sap) and grain alcohol.
The annual Corrales Harvest Festival (always in late September) is the main arts and crafts fair in which I participate, selling my santos in La Entrada Park next to the Corrales Library.
My retablos now hang on walls in homes from California to Boston, from Florida to Colorado, from Finland to Australia. Family members, friends and collectors like author Gary Soto and actor Edward James Olmos are among the proud owners of these pieces.
Retablos that I have recently painted can be purchased at Bookworks, 4022 Rio Grande Blvd. NW, Albuquerque, throughout the year.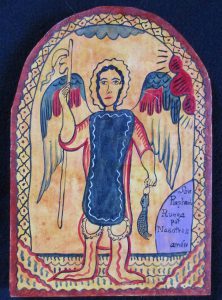 When I taught at School-on-Wheels in Albuquerque's South Valley, I was able to organize the creation of a Fresco Mural involved students of Bernadette Vigil, who apprenticed under an apprentice who learned directly from Mexican master fresco artist Diego Rivera.
The mural, on the front wall of the school, facing South, can still be seen at 120 Hartline Road SW, Albuquerque.